Seattle, Washington - Pacific Northwest Ballet
A Gem of a Nutcracker, in The Emerald City
November 25, 2005 - By Brad Maxwell
Seattle, Washington -- A beautiful city on the bay with views of snowcapped mountains and the waters of Puget Sound. A city filled with colorful trees, blue skies and the smell of the sea. A city with a style all its own and a friendly atmosphere. Seattle is a heavenly place; an Emerald City. The kind of place where you would expect to find a Gem of a Nutcracker.
The Pacific Northwest Ballet's Nutcracker is a creative masterpiece, adding a special style and passion to a traditional ballet. It's Maurice Sendak's colorfully surreal sets, blended with a performance that celebrates the entire Company. Although this production generally follows the traditional story line, it presents a story that's very different in many ways. Act I opens to Clara dreaming about the mouse battle and ends incorporating some beautiful music that isn't part of the standard Tchaikovsky Nutcracker score. Act II is set in a Moroccan-like land, with creative divertissements that include a Peacock in a cage and a Chinese Tiger. Probably the biggest difference is that the entire production has an emphasis on the Company and the academy students and less on individual leading dancers.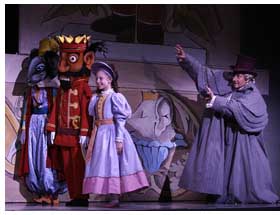 There is no Snow King or Queen, no Sugar Plum Fairy and the Grand Pas de Deux is shorter. With less emphasis on the leading roles and more on the story, this ballet presents a masterpiece of creativity.
The Party Scene opens with the young Clara asleep on her bed dreaming, while a mouse and soldier battle below. The curtain closes briefly and then opens to the party scene, where young parents and their children are dancing. The grand ballroom has giant burgundy drapes and murals on the walls, with a giant grandfather clock in one corner and a giant bust of Mozart in the other. Drosselmeier arrives, played by Fleming Halby, and being more mischievous than magical, coaxes the boys into taunting Clara. Clara loves her nutcracker and doesn't intend to share him. As the party winds down to a close, Drosselmeier expresses his discontent with Clara and leaves.
The room transformation in the Battle Scene presents some real magic as the Sendak tree unfolds to present a brightly lit giant as the ballroom's window and drapes grow to fill the background. It's exciting to watch the transformation. As the family sleeps, Clara enters the ballroom looking for her Nutcracker and trips over a baby mouse. This provokes an attack by the warrior mice armed with spears and dressed with a middle eastern theme. A huge box appears with a giant Nutcracker, releasing the little soldiers dressed in many different brightly colored military uniforms followed by a cavalry on horseback. Cannons blast and as a 27 foot giant mouse king is beaten back by the guards.
The Snow Scene is set in a forest courtyard with mice statues in the background. The stage is lit blue as a light snow sprinkles down on the 16 beautiful Snowflake dancers dressed in pastel blue costumes.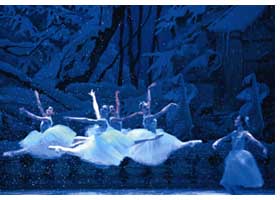 The snow choreography, by Kent Stowell, is breathtaking, filling the stage with a blizzard of beauty. Quads of snowflakes flurry through the courtyard, from side to side, passing each other as if blowing in different directions. At times the flurry reaches a pinnacle with all dancers spinning in the center of the stage as the flurry is caught in a whirlwind. This Snow Scene is a masterpiece, well executed by the beautiful Snowflake dancers; extremely talented and well practiced. It takes you to a truly magical place.
Act II opens with Clara and the Prince on the boat in an ocean of waves complete with jumping dolphins. The boat docks at a giant palace tent in a Moroccan-like land greeted by the Pasha in a giant turban. The divertissements maintain this creative Moroccan theme with ten Moors dressed in peach-colored shirts and white pants dancing to Tchaikovsky's "Chocolate" (Spanish); next is a beautiful multi-colored Peacock arriving in a cage and dancing to "Coffee" (Arabian); four Chinese dancers and a Chinese Tiger in a red hat; the "Trepak" is danced by three men in puffy blue pants with shell necklaces; three Harlequins perform to the "Dance of Reeds", and a little house arrives with four little boys in wide-brimmed hats and four little girls in blue and white dresses dancing to "Polichinelle" (Mother Ginger).
The Waltz of Flowers was performed by 16 dancers dressed in multi-colored pastel pink, blue and green tulle costumes. The dancers were impeccably timed and graceful as they tipped and swirled. Their high kicks filled the stage with flowery pastel dresses, creating a garden of color. The Pacific Northwest Ballet's Waltz of Flowers is simply stunning -- A national treasure.
The Grand Pas de Deux is danced by Patricia Barker (Clara) and her Prince, Stanko Milov. These two performers provide a world-class performance as Patricia's captivating grace is pared with Stanko's stylistic, seemingly one-handed lifts. They are the sparkle, in this Gem of a Nutcracker!