Los Angeles, California - The Los Angeles Ballet
Seconds for LA
November 29, 2007 - By Brad Maxwell
In a city that's known as the second largest in the land and in a region that's filled with second generation people from around the world, Los Angeles is celebrating another second; the second annual production of Th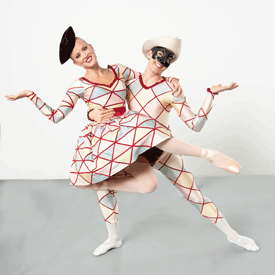 e Los Angeles Ballet Nutcracker . Get a second helping for yourself. The Los Angeles Ballet Nutcracker runs November 29 through December 30.

Looking back to Los Angeles "in the day" when the streets were filled with stylish women in colorful gowns, fancy shoes and tall hats with feathers. The men were dressed in tailored slacks and tuxedo type jackets. It's 1912 and Los Angeles is about to celebrate another Holiday with the Staulbaums, Uncle Drosselmeyer and Clara.

For this second year The Los Angeles Ballet presents a Nutcracker that combines a company of talented dancers with creative costumes and classic choreography. The young and talented Lilit Hogtanian performs the part of Clara dancing captivating solos that capture the show. Corina Gill playing Marie and Rainer Krenstetter playing her Prince, dance with the superb beauty and grace at the beginning of Act II and a shortened pas de duex at the end. Drosselmeyer, played by Bjon Hansen, is magical, flamboyant and fun, consistently incorporated throughout the show.

Act I starts as a party at the Staulbaums with the magical Drosselmeyer in a big fuzzy fur coat putting on a show with his dancing dolls and soldier. An ornery Fritz, played by David Hiller, tries to get tough with Clara's Nutcracker (Erik Thordal-Christensen) and ends up with a smack on the head. It all ends when Clara dreams of having a snowball fight with the Nutcracker which transitions to the dance of snowballs in the Land of Snow.

Act II is set in the Palace of the Dolls where Clara is greeted by two funny and plump Moroccan-like Attendants presenting dances by the dolls from many lands. Mother Ginger takes stage with her head of smoky hair topping the chimney of a gingerbread house with eight little Hansels and Gretels. Clara gets up to dance through the garden filled with a beautiful Waltz of Flowers who swirl and sway around her in a spectacularly beautiful staging.

The Los Angeles Ballet Nutcracker runs for three weekends: Alex Theatre, Glendale Nov 29 7:30 pm and Nov 30 7:30 pm; Royce Hall, UCLA Dec 22 2 pm & 7:30 pm and Dec 23 2 pm, and Redondo Beach Performing Arts Center Dec 29 2 pm & 7:30 pm and Dec 30 2 pm..