Irvine, California - Ballet Pacifica
December 14, 2001 - By Brad Maxwell
The Mice are Out! At the Barclay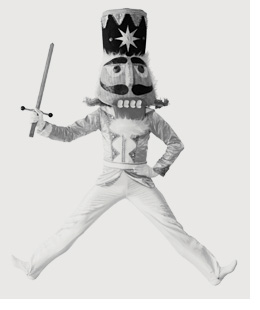 The Nutcracker, and the wonderful Nutcracker mice, began their annual run at the Barclay Theater on the University of California Irvine campus. With Christmas right around the corner and everyone busy shopping, taking a moment to visit with the Stahlbaum's and their annual Christmas party, should be right at the top of your list of things to do this season.
Molly Lynch's Nutcracker follows the traditional music and story line -- A very classical presentation with great talent. Act I begins at the home of the Stahlbaum's who are throwing a Christmas party and have invited all their friends and family. When the party ends, their daughter Clara falls asleep and dreams of mice, a Nutcracker Prince and a visit to the Land of Snow. Act II is set in the beautiful Kingdom of Candy where Clara is treated to the dances of the many different kingdoms.
Act I opens as the guests make their way to the party walking up through the isles of the theater providing a close-up view of the beautiful costumes. The curtain comes up and we enter the Stalhbaum home, attractively appointed with a giant grandfather clock, a beautiful front entryway, a staircase and, of course, a beautiful Christmas tree. The guests arrive and the dancing begins. In fact, parents as well as the children dance throughout the party. Drosselmeyer arrives and begins performing tricks, looking quite magical wearing a black cape, a black coat with sparkling sequins and an eye patch. The party winds down and Clara (Lauren Holland) soon finds herself being visited by lots of little mice. Drosselmeyer once again appears and transforms the Nutcracker into a prince for Clara. Clara and her prince (Tom Barber) dance off to the land of Snow where the Snowflakes dance up a winter storm on a stage covered with fog. The choreography of snowflakes swirling and spinning is simply outstanding, performed by beautiful dancers creating a magical snow scene.
Act II opens in the Kingdom of Candy where the stage is Decorated with giant fruit and candies adorned with draping white curtains. This is truly a beautiful looking set full of color and fun. Clara takes her place on the candy throne as she enjoys the dances of Spanish, Arabian, Chinese, Russian and Merliton Flutes – Each presenting her with a gift from their Kingdom. The beautiful Waltz of Flowers visits with Clara next with a colorful dance presented by talented dancers. The scene ends with the Grand Pas de Deux performed by Tom Barber, as the Nutcracker Prince and Erin Holmes, as the Sugar Plum Fairy – A fantastic couple.
Ballet Pacifica's presentation of the Nutcracker at the Barclay Theater is a real Holiday treat. You should spend an evening out and enjoy Molly's beautiful Snow Scene and the Waltz of Flowers before this season ends.